Over the past couple of weeks, I have had more than a handful of clients call because there QuickBooks won't open.  Either it will error out when you try to open it, or it will ask you to log in and then it will present you with an unrecoverable error.  The error is pretty cryptic, and does not give you any real hint as to what is causing the issue.
Before you spend a bunch of time on the phone with QuickBooks support to get this fixed, give these suggestions a try to see if you can get in.
Trouble Getting QuickBooks to Open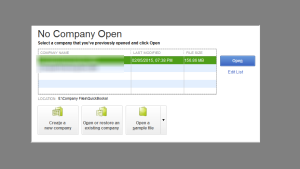 With QuickBooks closed on your computer, hold the Ctrl key down while opening QuickBooks.   This will open QuickBooks with the no Company window open. By default, if you close QuickBooks by using the X in the upper right corner, the program will open the same data file next time you open it.  The CTRL allows you to bypass opening the company file and you should be presented with the Open Company File dialog box.
Trouble Logging Into Your Company File
Next, before you click on your company file to open it,  hold the ALT key, then click on the file and click Open.  If you have a password on your account (and you should!) release the ALT key to type in your password.  After you type that in, hold the ALT key again before clicking OK.
Similar to the earlier example, when you close QuickBooks, it remembers all of the screens and reports that you have open when you quit.  By holding down the ALT key, you are telling the program to open the user without launching all of those reports and windows. We have seen that sometimes if you leave a lot of reports open QuickBooks might have trouble recreating them when you try to log in and thus causes an error.
Don't Save the Desktop View
QuickBooks has a setting in the Preferences file that will allow you to help prevent this from happening again.  It is the Save Desktop View option.  By selecting Don't Save the Desktop option, the reports and files will not be saved when you close you file.
To get to this setting, do the following steps:
Click Edit from the main menu



Click Preferences




Choose Desktop view




Don't save the Desktop




Click OK



Have each user log in and do this.  
Hope this helps.
Cannot Open QuickBooks - Errors When Opening