When you open QuickBooks you may encounter a message that says QuickBooks has an update.
Figure 1.1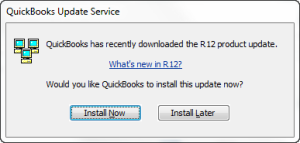 Don't just click Install Later.   It usually only takes a few minutes.   QuickBooks releases these updates for fixes or new features.
If you are working in a network environment you need to keep in mind that once one of you update you will all need to update.   2013 released the R6 update and this fixed a lot of issues they were having so I recommend updating it.
If you have an older product you may see a message that prompts you for a new release.   This is upgrading, so you don't want to do this unless you want to buy the new product.

QuickBooks Update Service